---
ALL of our dogs were owner-handled to their AKC Champion, and Grand Champion titles.
---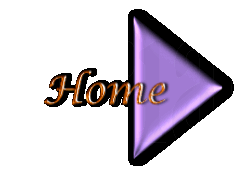 AKC Ch/UKC GrCh Yutori's Howlin' at Autumn Moon,CGC, HIC
below, Finn finnishing his AKC Championship in April 2012.
Finn was shown twice in 2011 (the first weekend of AKC recognition) and then pulled for Leif, his litter brother, who was winning everything. At the end of April 2012, we brought Finn back out and completed his Ch in just a few shows.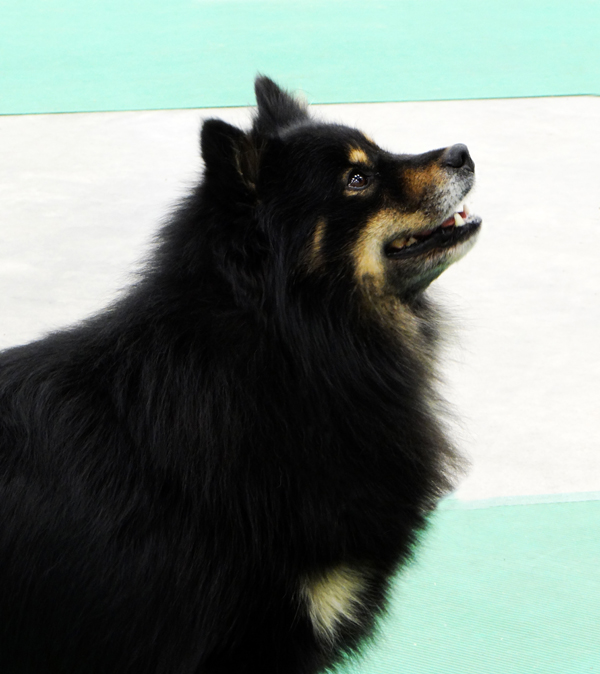 Below, Finn in November, completely out of coat but still showing his beautiful head and structure.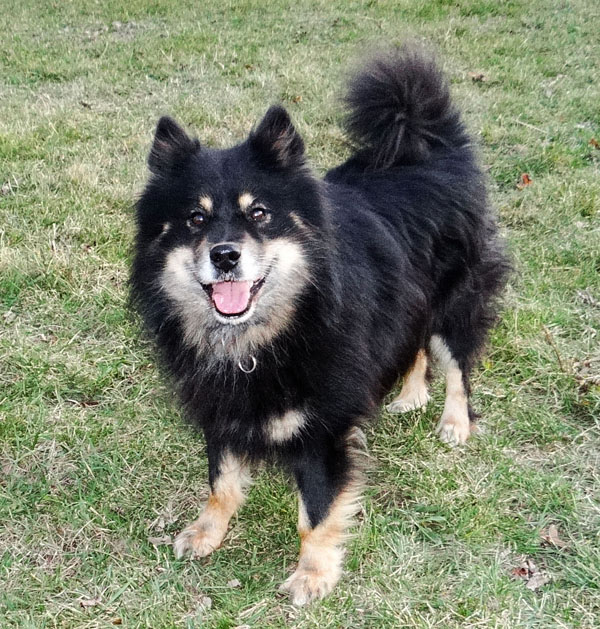 Below, Finn at 18 months of age.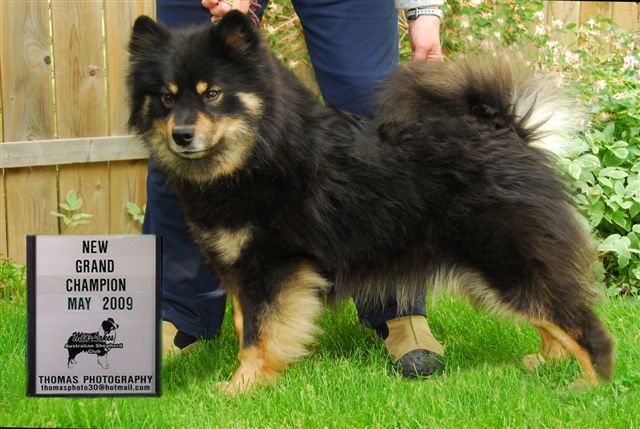 Bred by Lynn Drumm & Cathy Pollack
Finn above, at 18 months of age
Clearances:
Finn is OFA'd with 'Good' hips, normal elbows and normal patellas. He is PRA Clear by parentage
and has a current CERF, and is tested Thyroid Normal, by Hemopet.
A proven producer, he has sired a litter, out of Sony 'UGrCh Sugarok Out N'About Yutori, HIC'.
Finn has recently entered the AKC show ring and on Sept 24-25, 2011 he picked up both of his majors. With limited showing one weekend in January and one weekend in April 2012, he completed his AKC Championship in very short order.
AKC FSS pedigree here (Autumn Equinox is his litter sister so it's the same pedigree for Quinn, Finn and Leif)
Finn earned his HIC in November 2008, his AKC CGC in July, 2008. and his UKC Gr. Ch. on May 15, 2009
As shown below, Finn has excellent movement with beautiful reach and drive.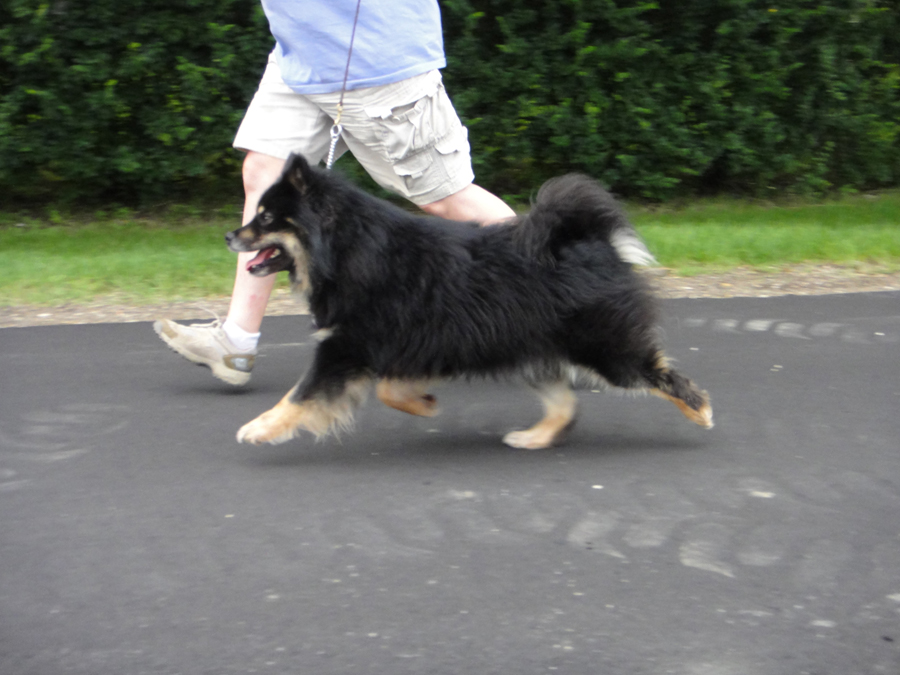 See Finn earning his herding instinct certificate on Youtube here.
Finn is not at public stud. He may be available (by private agreement on a case by case basis) at stud to Champion* females with all of their clearances (OFA hips, knees and elbows). Prospective mates should also be PRA Status known/tested PRcd gene (via optigen), and with a recent brucellosis test. Finn will also have a current/recent brucellosis test prior to any breedings. He has already been tested for brucellosis (negative).
* We prefer to breed to finished champions. However if the female is of exceptional conformation quality and pedigree, we are willing to discuss individual situations. Finn is an AKC Champion, UKC Gr Ch, and has a CGC and HIC title as well.
Finn as a young puppy, 3 1/2 months
Quinn left, Finn right (below) at 3/1/2 months "The Twins"
The Twins--Quinn left, Finn right--above
Finn at 15 weeks, taking BPIS (Best Puppy In Show) at the Mid-Lakes Australian Shepherd Club sponsored All-breed show--his first time in the show ring. Thank you to judge Roger 'Butch' Bennett...and for his beautiful handmade trophy

---

Finn at 15 weeks above, first time in the show ring, in Racine, WI

Finn below, 6 months, with his father Teddy (Gr. Ch. Sugarok Teddy Bear) in the Breed ring in Ixonia, WI 6-1-08

---

New UKC Champion Yutori's Howlin' at Autumn Moon, CGC 'Finn' (below)

Finn finished his UKC Ch. at the 2008 UKC Premier

photo below by Thomas Photography

photos below by Lynn L. Drumm

Finnegan at the Premier on Friday, June 13, 2008, taken by Lynn Drumm with special thanks to Tom Ruffalo when Lynn was in the ring herself.

Above, Teddy x Tina's boys, l-r Chip, Finn and Storin

Below, Finnegan finishing his Championship on Sunday 6/15/08 at the UKC Premier

---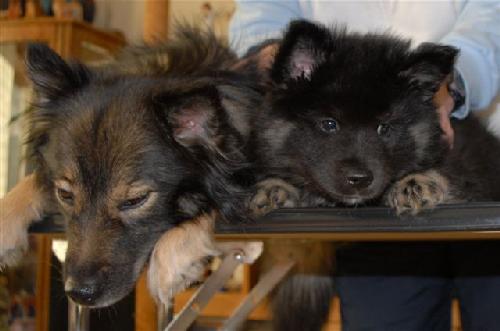 Tina and son, 'Finn', taking a break during the photo session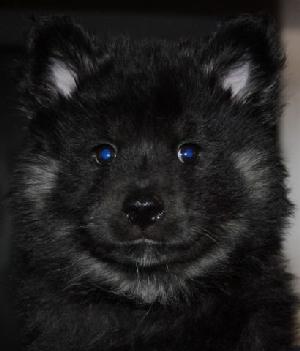 Below, Finn enjoying our winter snow, 2008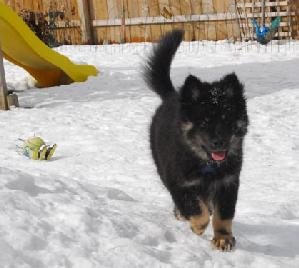 Below left, Dancer and Finnegan and right, Finn with penguin toy
Below left, Lily tells Fnnegan to'lay off' the horseplay, while Dancer looks on. Right, Finnegan lying on a snowpile.
Below, Finn left and Quinn right, playing tug-o-war with a frisbee.
Photo below by Dick's Photography
Finnegan during his herding instinct test, 11-9-08
[ Try right-clicking the image and then the text link below ]
Free JavaScripts provided
by The JavaScript Source
Yutori Web Design © 2006-2011 all rights reserved and will apply to all pages of this website.
All photos on this website and in the albums are copyright to Yutori Finnish Lapphunds. Do NOT copy without our written permission. Photo theft will be prosecuted. These photos and ALL graphics are privately owned by Yutori Web Design and are NOT to be used by anyone without our express permission. They are NOT to be considered public domain.