DIRECTLY imported from Finland.........
Niisku is a Canadian Champion and a UKC Ch, with 3 AKC majors, needing only 3 singles to finish her AKC Ch....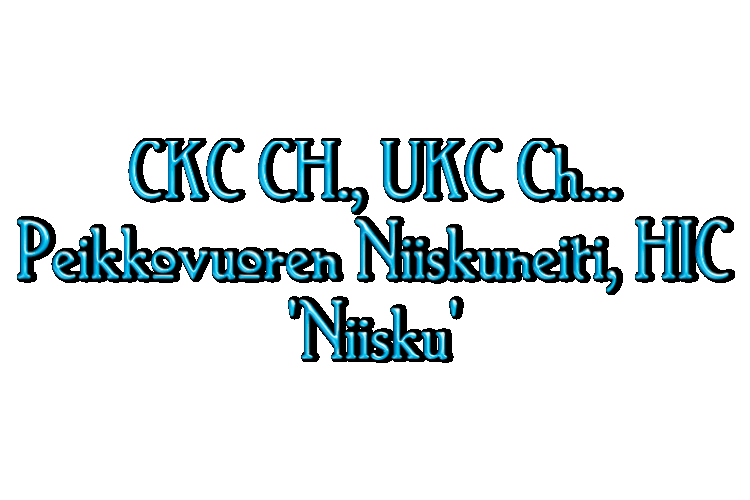 ---
ALL of our dogs were owner-handled to their AKC Champion, and Grand Champion titles.
---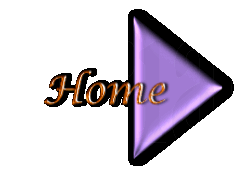 Niisku has 12 AKC points (3 majors) and needs only 3 singles to finish. She has produced 2 spectactular litters. Her first litter, to UKC GrCh Orso Farm Naappero 'Dancer' (IMP) produced CKC Ch. Yutori's Suomifoxfire O'Bearspaw, 'Ukko' the 2012 FLCC National Champion Finnish Lapphund BISS winner, and AKC Ch Yutori's Suomi Revontuli 'Liika' the 2012 FLCA National Championship Best of Opposite Sex Winner. Liika is the #1 all systems Female Finnish Lapphund in the USA. Niisku's second litter, sired by AKC Ch. Lapinlumon Nuoskalumi 'Lumi', produced 4 beautiful fully/brightly marked brown & tan puppies. All puppies went to Conformation show homes. One will be focusing primarily on obedience and agility, while another will be also doing agility with primary focus on conformation. They will not be of age for conformation until early fall/late summer.
-----------------
Bred by Taina Miettinen & Ari Friman of Peikkovuoren Kennels (Finland)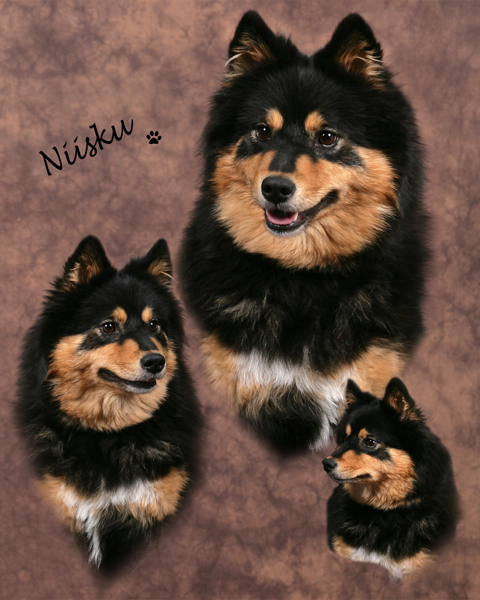 graphic above by Judy Mechiz --Niisku at about 18 months of age.
Niisku has OFA Good hips, normal knees and patellas, CERF'd 2009 and 2011, and PRA clear.
She is the dam of the #1 Finnish Lapphund in Canada for 2011, CKC Ch. Yutori's Suomi Foxfire
and littermate our AKC Ch. Yutori's Suomi Revontuli 'Liika'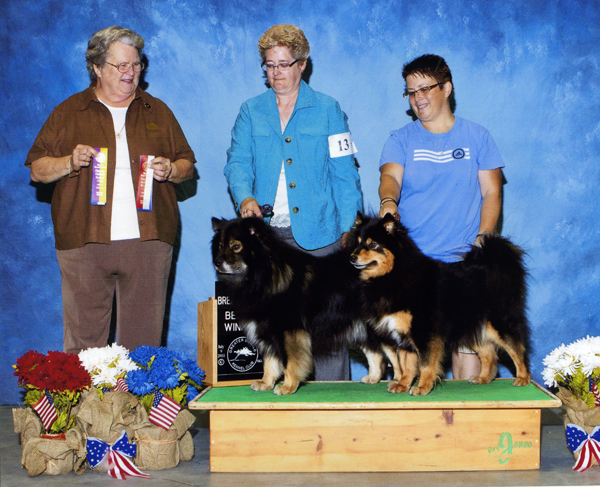 Above Leif on left and Niisku on right--BOB and BOS
and below, Niisku earning a 4 point major (both days) her second weekend of shows.
Judge Marjorie Tuff above....Show photos by Booth Photography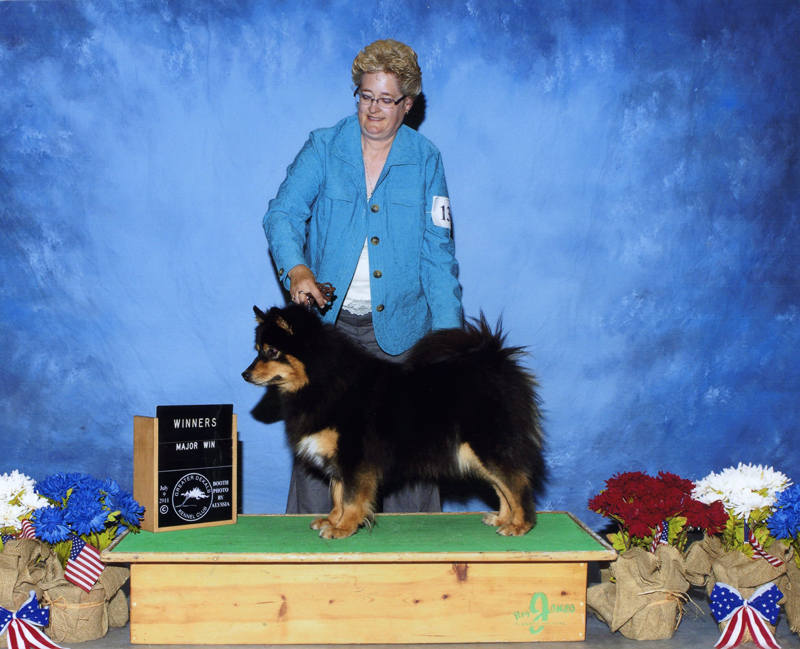 Below, Niisku earning her 2nd 4 point major under judge Norm Kenney.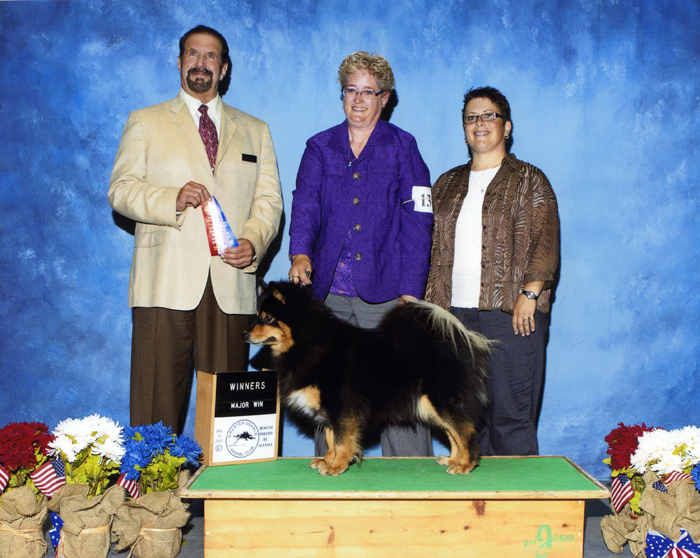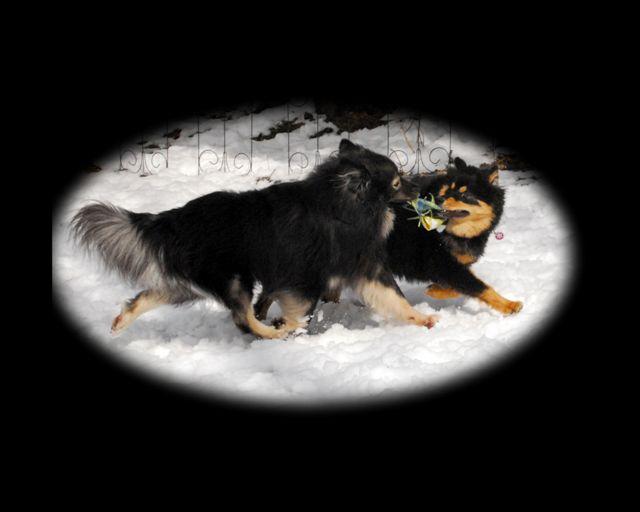 photo above, Dancer left, Niisku right, by Lynn L. Drumm
Niisku at her Herding Instinct test 11/9/08 on You Tube
Niisku Herding Instinct part 2 on You Tube

A photo collage of the Niisku x Dancer puppies, photos by Lynn L. Drumm, below.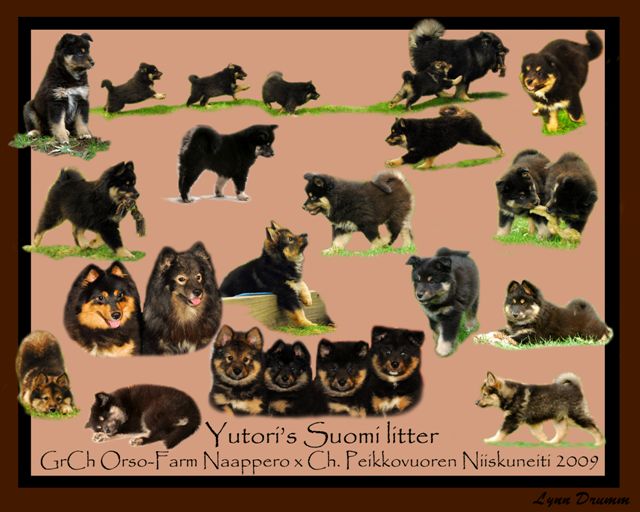 Recent News:

Niisku completed her Canadian Championship in August 2010 in limited showing!!!

---

Yutori would like to extend congratulations to Niisku's litter-sister Peikkovuoren Nenšliina: The Best Puppy in 2008 of The Lapphund Club of Finland. Congratulations to her breeders; Taina Miettinen and Ari Friman

Niisku's sire, Lumiturpa Eppu won BOB at the 2007 Winner's show held in Finland, December 2007 and on March 30 at the Finnish Lapphund Special Dog Show (also in Finland), he was BOB and BIS 1. At this same show, Niisku's littersister Peikkovuoren Nenaliina was BIS puppy.
A North American 3-way co-ownership arrangement between Cathy Pollack and Lynn Drumm of Yutori Finnish Lapphunds in the United States and Gloria Beaudin of Shadagrace Kennels in Canada.

Clearances: Niisku has OFA Good hips, 'normal' elbows and patellas. Niisku has a current CERF 11-3-09 and is Finnish Laboklin (equivalent of Optigen) gene-tested PRA status A 'clear'.
DOB 9-5-07
New UKC Ch. Peikkovuoren Niiskuneiti 'Niisku', completed her UKC Championship at the 2008 UKC Premier
Thanks to judge Dan Crutchfield for awarding her final competion win and points
Photo below by Thomas Photography
Below left, Katie and Kim Ruffalo, with Latte (left) and Niisku (right)
photos below by Lynn L. Drumm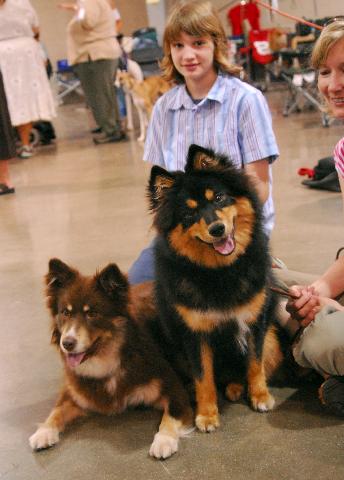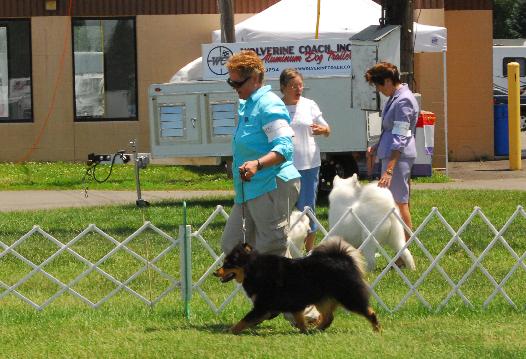 above, Niisku finishing her Championship on Saturday 6/15/08 at the 2008 UKC Premier
---
Niisku's first dog shows earned her a Grp 3 and several Grp 4's plus 125 pts & 1 competition win.

Congratulations, Niisku!!!!

photo above by L. Drumm
Cathy Pollack and Lynn Drumm of Yutori Finnish Lapphunds in the United States, and Gloria Beaudin of Shadagrace Kennels in Canada, are proud to announce the arrival of Peikkovuoren Niiskuneiti in North America. She arrived at 9 weeks old, and has already stolen the hearts of all 3 of her co-owners. Cathy Pollack flew to Finland to meet her breeders, and to bring her home.

We are extremely grateful to Taina Miettinen and Ari Friman of Peikkovuoren Finnish Lapphunds, in Finland for this wonderful opportunity to bring such outstanding bloodlines to this country. We also thank them for such a stunning puppy. The opportunity arose when Linda Marden of Sugarok notified us that this puppy was available to import. Lynn, Gloria and I were very fortunate to be in the right place at the right time and we thank Linda Marden for her assistance in making this happen.

The trip to Helsinki was a long one, but Taina met me (Cathy) at the train station in Jyvaskyla with Fin Ch. Lumiturpa Otso playing 'Finnish ambassador'. Otso kindly escorted me back to Taina's car, where Ari was waiting to drive us all home. They had planned a little party back at their home, where I met their good friends, one of whom was a veterinarian. They barbequed chicken and steak, and served me my first mug of Aqua Vita (and it has a kick!). I finally got to bed somewhere around 4am Sunday morning (having gotten off the train in Jyvaskyla at 11:37pm). On Sunday, Taina and Ari and their two sons showed me around their area, and some of the sights in Jyvaskyla. Then after an evening meal of Reindeer and mashed potatoes (sorry Santa but it was good!), we visited Ari's Father and took a Finnish Sauna with desert served after! It was Fathers' Day in Finland. After returning back to their house I packed for an early departure to return with Niisku on Monday morning. Niisku is a daughter of 2007 Finnish Winner's show BOB winner , Fin. Ch. Lumiturpa Eppu and Peikkovuoren Finlanddia. She is a grandaughter of Lecibsin Hurmuri Hukka and carries the type and substance we admire. Niisku and Sony (our other Hukka grandaughter) will be very influential in our plans to establish the 'type' we want to produce here at Yutori.

Niisku, 6 months, 3-15-08

Photo L. Drumm

Above middle, Niisku at 6 months and right, Niisku left and Sony right--photo by Thomas Photography

---
photos above and below by Lynn Drumm
Below, l to r: Lucy the Pomeranian, Niisku, and Lily the Pom.
photos above and below by Lynn Drumm
Above: l-r--Dancer, Sony, Latte and Niisku. Below, Niisku chasing Latte, Sony looks on.
Niisku (ab0ve) to Latte "Awww, c'mon you're not tired YET are you?"
Below, "are you my mother?" or, "two partners in crime". Niisku's mother was brown and looked very similar to Latte--so on first meeting, Niisku was very attracted to Latte--she followed her everywhere.
[ Try right-clicking the image and then the text link below ]
Free JavaScripts provided
by The JavaScript Source
Yutori Web Design © 2006-2026 all rights reserved and applies to all pages of this website.
All photos on this website and in the albums are copyright to Yutori Finnish Lapphunds. Do NOT copy without our written permission. Photo theft will be prosecuted. These photos and ALL graphics are privately owned by Yutori Web Design and are NOT to be used by anyone without our express permission. They are NOT to be considered public domain.